Early Plantation
The Ontario Ministry of Agriculture, Food and Rural Affairs advises that soybeans should be planted early, in the first week of May. Early plantation has proven to produce higher yields. When soybeans are planted in early May instead of at the end of the month, farmers generally produce, on average, an additional 4 bushels of Soybeans. (TopcropManager.com, 1999)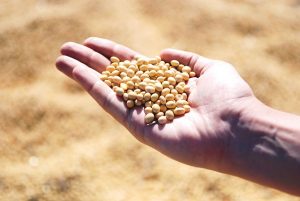 Alongside the calendar, one of the most essential factors for soybeans is the soil condition at planting. Better soil conditions will produce better results. Taking this into account, if soil conditions are more favourable for planting in the last week of April, farmers should proceed with planting rather than waiting the additional week when soil conditions may not be as favourable. It's better to plant when the soil condition is the best, rather than by the calendar.
Seed Treatment
Seed treatment is necessary to protect the early soybean plantation from pests, insects, and diseases. There are three types of seed treatments used for soybean protection:
Fungicides

Insecticides, and

Nematicides
Seed treatment protects seeds, improves emergence rates, and increases yield. (Wise, 2018). Seed treatment is an essential and valuable technique when planting early, as cool, wet soil can contribute to crop challenges. Seed treatment is especially beneficial in reduced or no-till situations. (Ministry of Agriculture, 2017)
Planting Depth
Depth is also an essential factor to consider when

 planting soybeans that will directly impact the yield of early soybean crops. The general depth required for soybean seeds is 3.8cm. When soybean seeds are larger, they must be planted deeper in the soil to ensure adequate moisture. If planted early, the planting depth should be reduced to 2.5cm. (Ministry of Agriculture, 2017)
Rolling: 
Rolling is a process that helps improve combine efficiency by leveling the field and providing the seed with more direct contact with the soil. It also helps avoid the chances of plant injury. In the case of early planting, many farmers prefer to roll immediately after planting. Still, rolling can be done immediately or once the crop has emerged. (Ministry of Agriculture, 2017)
The Canadian Advantage
Canada is considered one of the best environments for growing soybeans for a whole host of reasons:
The air quality in Canada is among the world's best, which is beneficial for general crop and soybean production.

The availability of deep fertile soil provides a healthy environment for soybean seeds and plants to grow.

Canada has some of the cleanest water sources globally. The availability of clean, healthy water is highly beneficial for soybean production.

Canada is home to many agriculture and agri-food scientists and research centres that work to benefit Canadian farmers, emphasizing and promoting innovation and competitiveness within the sector. 

The readiness to keep on upgrading the tools and equipment that increase the efficiency of soybean production.
Canada has developed a system that ensures quality soybean product is delivered to customers domestically and abroad. Canadian Identity Preserved soybeans are tracked from seed, grown to specification, and tracked through to export to ensure customers receive soybeans that match their requirements. It is an integrated system that is one of the best globally and provides buyers with high-quality, reliable, traceable Canadian soybeans.
Canada's agricultural sector is world-class, and with increasing market demands and investments in the farming industry, soybean production will continue to grow as a significant crop in Ontario.